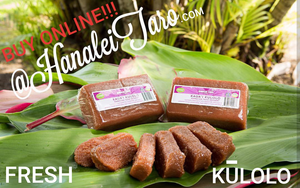 Kūlolo is a traditional Hawaiian dessert made from Taro and Coconut. To help maximize your shipping we can fit up to 16 Kūlolo bricks and/or Taro Mochi Cakes per box.
Our family has been farming for many generations in beautiful Hanalei Valley on the Hawaiian Island of Kaua'i. Located on a US Fish and Wildlife Refuge, it is also home to the last remaining Hawai'i Rice Mill, Ho`opulapula Haraguchi Rice Mill, an agarian museum 501c(3) nonprofit.
Online orders will be shipped out every Tuesday. Please place your order by the prior TUESDAY before 7:00PM (HST) to ensure freshness and harvest of each shipment.
PLEASE READ: To your door, we are shipping on Kauaʻi, across Hawaiʻi, and across the United States of America. Minimum of 1 brick per order at $10 per lb. To help maximize your shipping, we can fit up to 16 brick max, per order. If you are interested in bulk orders, please contact lyndsey@hanaleitaro.com.